You may have heard someone say, "The Insurance Market is Hard" or "Hardening", what does this mean?
There are two "markets" for insurance, "Soft" and "Hard".
When the insurance market is "soft", insurance companies are competitive, we see a broadening of insurance availability/coverages and a decrease in premiums.
When the insurance market is "Hard", we see a decrease in availability of insurance/coverages and an increase in premiums.
How may this affect you, your risks, and your premium?
When we are in a "Soft" Market - premiums are competitive, coverages are broad, and it's generally easy to obtain and maintain affordable insurance to cover your risks.
When we enter a hardening market – which we are right now for most types of risks, vigilance is required, and a strong insurance advisor is necessary. This is because in a hardening market we see fewer insurance carriers offering coverage for the same types of products. Several things can lead to a hardening market, including global events (pandemic, climate changes, economic downturn, etc..), increase in frequency in claims, increased litigation costs, and decreased competition throughout the market due to mergers and insurance carrier(s) insolvency.
In addition, insurance companies continue to face financial impairments, in the same lines of coverage, with worker's compensation and auto insurance being the loss leaders. A Financial Impairment is a designation provided by A.M. Best – the leading rating bureau for insurance carriers when a company is deemed as a "Financially Impaired Company"1. This designation is reported to the local Department of Financial Services and action has to be taken for either; conservation, rehabilitation, or insolvency/liquidation for the case of all of the 2020 Year Impairments, every carrier went into insolvent liquidation.2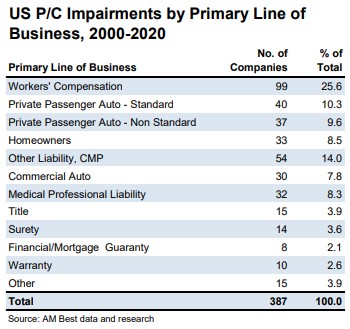 With more carriers reaching insolvency making them unable to continue to operate and issue new coverage, along with the increase of mergers and acquisitions diluting the available competitors in the market plus increased claims contributed by global factors, it can be more than difficult to navigate the insurance marketplace to obtain the right coverages for your business.
LG Planning Group can help you navigate these unprecedented times. Contact Louis Blangiardo or call 631-589-6960 today for further guidance on how to protect your organization. We have strong relationships with A Rated Insurance Carriers that have a long-standing history of providing excellent claims service and can find you coverage when coverage is hard to put in place. If you are experiencing a fall-out from your insurance carrier(s) and have to, or want to make a change, we have solutions for you and your business.
Source:
(1) https://www3.ambest.com/ambv/ratingmethodology/OpenPDF.aspx?ri=1320
(2) https://www.insurancejournal.com/news/national/2021/04/16/610215.htm